Creative Memories
---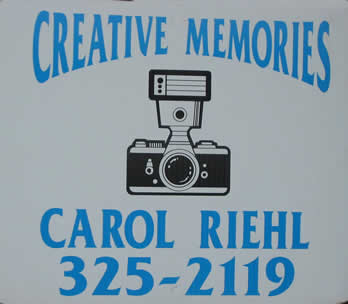 Creative Memories preserve the past, enrich the present, inspire hope for the future

.
Imagine for a moment that your photographs are organized in albums, safely displayed on acid-free, lignin-free pages bound between handcrafted covers. Imagine the lifetime of enjoyment.
You no longer have to imagine. Join consultant, Carol Riehl, at any or all of the workshops she hosts.
---
Following is a list of times and locations:
Monthly: Second Tuesday, Wildwood Community Center from 9:30 am -3:30 pm

Fourth Monday, Evansburg, at Lobstick Community Learning Society Office in the Grand Trunk High School from 9:30 am - 3:30 pm.
Retreats: (3 days in succession):
Lone Pine Ranch, Wildwood

Evansburg Arena: May and August
Costs vary as well as times
---
Call Carol at 325-2119 for more information
PO Box 485, Wildwood, AB, T0E 2M0
You can host a class, invite your friends, and earn scrap booking items generated by sales at this class.
Call Now to Book
---
Last Updated on Wednesday, 07 October 2015 10:09